For all those players who plan to build the FIFA 18 best squad possible, no matter what chemistry they get, we've conducted an analysis on the best players.
Introduction to the FIFA 18 Best Squad Guide
Building a team is the biggest challenge in FIFA 18 Ultimate Team. It doesn't need to be the best team, this is because the budget may not allow it, but it needs to be the player's stature for him to obtain success.
When choosing which players to play with, you will have to look carefully at their attributes. Choosing a team based on ratings is one of the most common mistakes on FUT 18. It's precisely this aspect that this guide focuses on. For each position, and focusing on the truly important attributes, we'll show you who are the best athletes to choose.
It's also important that the player checks to see if the player he chooses fits the formations he likes to play in. For example, a good full back will be useless if the player only uses a formation with three defenders. According to these formations, the player must be cautious and look at the work rate.
This time we will not care to chemistry. The goal is to select the best players of each position, no matter how they link each other. This article aims to help those that want to form the FIFA 18 best squad possible.
Another important point and that must stay very clear is that whoever is reading this guide, it's about some criteria we chose and should be of everyone's knowledge:
✔️ Only Gold Players
In this guide, we didn't consider silver or bronze player. Most players don't assume them to be a better option than gold players, so to simplify the guide's analysis we didn't include them.
✔️ Only Regular Players
In this guide, we didn't consider In Forms (IF) or special cards. They're extremely expensive and in most cases are not considered good value for money. They should only be used by players with generous budgets, that already have the best team possible and that want small upgrades.
✔️ Only Normal Players
In this guide, we didn't consider players that have been reviewed (UP).
✔️ Only Original Attributes
In this guide, we didn't consider changes made in a player's performance such happens when applying training or chemistry styles cards.
✔️ Fluctuation of Prices
We added a link to the suggested squad where you can check anytime the updated prices.
Best FIFA 18 Goalkeepers
GK
Goalkeepers are the players that are used least on the field. Because of this they are also first ignored when building a team. Most players start their purchases with a forward, later they strengthen the midfield, the defence and only later the goal. The truth is a good goalkeeper may be worth a lot of goals. They are a good investment because they are normally the most economically accessible players.
BEST PLAYERS
1️⃣ Manuel Neuer
2️⃣ David De Gea
3️⃣ Gianluigi Buffon
4️⃣ Thibaut Courtois
5️⃣ Samir Handanovič
Best FIFA 18 Right Backs
RB | RWB
Full backs have the role of troubling the job of wingers. In addition, good full backs also support their team mates on offensive manoeuvres.
BEST PLAYERS
1️⃣ Kyle Walker
2️⃣ Antonio Valencia
3️⃣ Alessandro Florenzi
4️⃣ Dani Alves
5️⃣ Nelson Semedo
Best FIFA 18 Left Backs
LB | LWB
Left backs have exactly the same role of their team mates on the other flank. In other words, they try to make a winger's job hard and participate in the team's offensive manoeuvres.
BEST PLAYERS
1️⃣ Alex Sandro
2️⃣ David Alaba
3️⃣ Marcelo
4️⃣ Jordi Alba
5️⃣ Filipe Luís
Best FIFA 18 Defensive Midfielder
CDM
Many of the FIFA 18 Ultimate Team formations require some midfielders that have a natural aptitude to defend. Central defensive midfielders distinguish themselves for being especially aimed to help the more retreated line of their teams. According to their attributes and their work rates, they can also be useful for starting attacks. They are players that occupy a very strategic position in the field.
BEST PLAYERS
1️⃣ Arturo Vidal
2️⃣ N'Golo Kanté
3️⃣ Blaise Matuidi
4️⃣ Casemiro
5️⃣ Nemanja Matić
Best FIFA 18 Centre Midfielder
CM
A lot of games are decided in the midfield and not close to the goals. The players that play in these zones are the ones that should create the game and define its rhythm.
BEST PLAYERS
1️⃣ Paul Pogba
2️⃣ Radja Nainggolan
3️⃣ Luka Modrić
4️⃣ Thiago
5️⃣ Claudio Marchisio
Best FIFA 18 Centre Attacking Midfielder
CAM
An attacking centre midfielder is responsible for creating chances to score. He should have a good dribbling, a decent passing, a high long shot stat and a great vision.
BEST PLAYERS
1️⃣ Paulo Dybala
2️⃣ Kevin De Bruyne
3️⃣ Christian Eriksen
4️⃣ James Rodríguez
5️⃣ Dele Alli
Best FIFA 18 Right Wingers
RM | RW | RF
The wingers are responsible for giving game width in the attack. They're normally very explosive players.
BEST PLAYERS
1️⃣ Lionel Messi
2️⃣ Gareth Bale
3️⃣ Arjen Robben
4️⃣ Henrikh Mkhitaryan
5️⃣ Ousmane Dembélé
Best FIFA 18 Left Wingers
LM | LW | LF
The left wingers have exactly the same role as their team mates from the other side.
BEST PLAYERS
1️⃣ Cristiano Ronaldo
2️⃣ Neymar
3️⃣ Eden Hazard
4️⃣ Alexis Sánchez
5️⃣ Marco Reus
Best FIFA 18 Forwards
CF | ST
The forwards are the players on which fall the most responsibility of scoring goals.
BEST PLAYERS
1️⃣ Luis Suárez
2️⃣ Sergio Agüero
3️⃣ Robert Lewandowski
4️⃣ Pierre-Emerick Aubameyang
5️⃣ Antoine Griezmann
FIFA 18 Squad Suggestions
The team suggestions that follow should serve merely as orientation because it's impossible to build a team that fits everyone. They depend on various factors we don't know such as budget, formation, style of play and player preferences.
FIFA 18 Squad with Unlimited Budget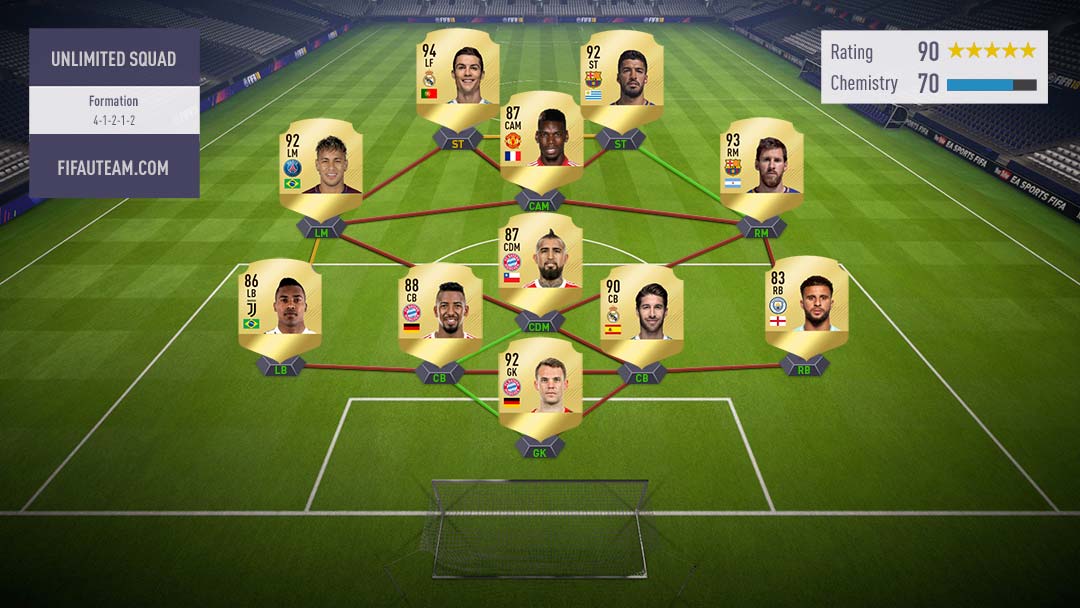 FIRST SQUAD
🇩🇪 GK: Manuel Neuer
🏴󠁧󠁢󠁥󠁮󠁧󠁿 RB: Kyle Walker
🇪🇸 CBR: Sérgio Ramos
🇩🇪 CBL: Jérôme Boateng
🇧🇷 LB: Alex Sandro
🇨🇱 CDM: Arturo Vidal
🇦🇷 RM: Lionel Messi
🇧🇷 LM: Neymar
🇫🇷 CAM: Paul Pogba
🇺🇾 STR: Luis Suárez
🇵🇹 STL: Cristiano Ronaldo
SUBSTITUTES AND RESERVES
🇪🇸 GK: David De Gea
🇪🇨 RB: António Valência
🇧🇷 CB: Thiago Silva
🇮🇹 CB: Giorgio Chiellini
🇦🇹 LB: David Alaba
🇫🇷 CDM: N'Golo Kanté
🏴󠁧󠁢󠁷󠁬󠁳󠁿 RM: Gareth Bale
🇧🇪 LM: Eden Hazard
🇦🇷 CAM: Paulo Dybala
🇦🇷 ST: Sergio Agüero
🇵🇱 ST: Robert Lewandowski
💰 BUDGET
December 2017


Playstation 4
4,900,000 coins (starting eleven)
6,400,000 coins (starting eleven + subs)

Xbox One
4,400,000 coins (starting eleven)
5,700,000 coins (starting eleven + subs)

PC
6,000,000 coins (starting eleven)
7,800,000 coins (starting eleven + subs)